The purpose of the Association, as stated in our Constitution......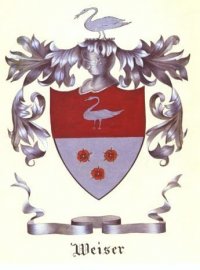 The purpose of this Association shall be to preserve the memory of the Weisers by furthering research into the history of the Weiser family; compile and publish a genealogy of the family; to encourage the collection of artifacts and documents pertaining to the Weiser family; and to particularly bring the various descendants of the Weiser family into closer relationship through reunions.


The Weiser Coat of Arms, at left, was created by Louise Zimmerman Stahl and is based on a description of the Arms as described in our ancient family documents. (copyright is in effect).


See the "News and Announcements" area for the latest entries!
---
Board of Directors Members: President, Tim Weiser; Secretary, David Stahl; Treasurer, Doug Weiser; Newsletter, Mark Weiser Russell; Archivist, Paulette Weiser; Website, Laura McQuaid; Al Achtert; Jim Weiser; Dan Weiser, Bill Koppenhaver and Laborer rendering services to the Association, Carol Weiser.